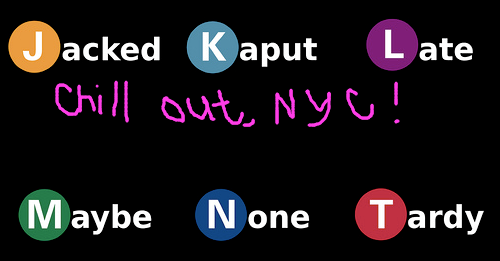 We told you about the case of the 40withegg blogger, who made a bunch of t-shirts with the letter logos of Muni's Metro trains, only to be shut down by New York City's Metropolitan Transportation Agency.
New York? Seriously.
In the comments section of our original post, we received some interesting tidbits from "Jim from NY." Apparently the same lawyers, on behalf of NY MTA, had also sent similar letters to Ahmed Samhan of F-Line* Bagels in Brooklyn in 2006, forcing him to remove the "F" train logo from its front sign.
NY MTA claims that people may confuse the bagel shop with the transit agency. The Brooklyn Paper reports, hilariously:
Yes, Samhan's store was filled with the subway system's distinctive iconography. And yes, it sits under the Smith/Ninth Street station.

But any similarities between F-Line Bagels and the F line end there.

For one thing, Samhan's store is sparkling clean. For another, his employees are friendly. And never once has anyone tried to search my bag when I entered F-Line Bagels.
Jim also reports that the same lawyers have also taken on a bakery selling cookies with frosting designed in the shape/color of the route bullets and a photographer selling images he took on the subway.
CafePress, where 40withegg had meant to sell some shirts, took his wares down, citing a cease-and-desist letter it received from NYMTA. 40witheggs included some communication from NY MTA's lawyers, saying that his "use of the subway route symbols and/or other subway imagery infringes upon their intellectual property rights (trademark)."
Can the NY MTA really register "any letter in a solid color circle"? Then does SF MTA have to pay NY MTA for using their fancy dancy route bullet design? And to state the slightly obvious, these shirts are poking fun at San Francisco's Muni, and I hardly think anyone is confusing these shirts for the New York subway.
Any of you copyright lawyers out there able to shed some light for us?
* to any lawyers representing transit agencies in other cities, we're referring to the NYMTA's F line, not San Francisco's beloved tourist hot box, the F.