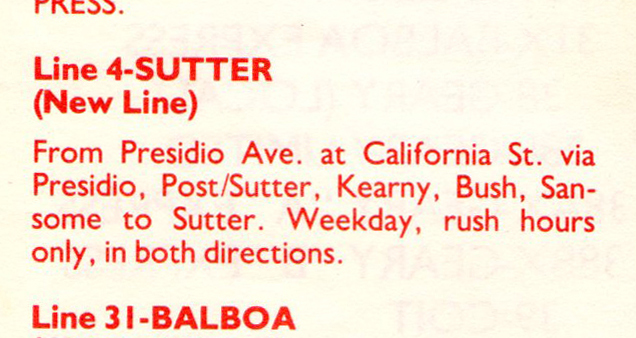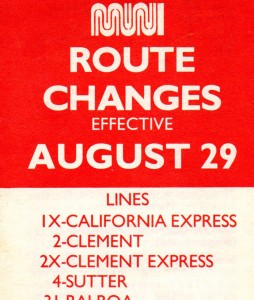 All art from Muni brochure dated Aug. 29, 1979
Ed note: The brochures above came to us via longtime San Francisco resident and transit enthusiast Randy Alfred, who has kept an amazing record of transit documents dating from the early 1970s. He says he kept them around because "ephemera are always interesting to historians and collectors. They illuminate the fine detail of daily life years ago." Look for more Muni documents from days gone past from Randy's collection in the coming weeks on Muni Diaries.
All this week we are running eulogies written by you, dear riders, to honor the Muni lines that are being eliminated this Saturday. Here's my own eulogy for poor 4-Sutter, which runs very close to my apartment. — Eugenia
Bus number 4, remember the smile I'd give you when you'd sidle up to me at the bus stop? You liked to say, "Almost always late, but definitely worth the wait!" I didn't know how good you were to me until now, when you're gone from my life. I always think about the times when we'd skip down Sutter street, hand-in-hand, on our way to another shopping spree in Union Square (who else accompanies a girl so willingly to the mall?)

And you'd give me a ride back home after another night out with my girl friends, no matter how many cocktails I've had. You never seemed to care that, at that point in the night, I was always too drunk to make conversation with you. Sometimes I'd even put my face right up to the open window to get some air, and you never even said I was weird or anything.

On bus number 4, I never knew how good I had it until you decided to leave. You know what they say? You're the one who got away.
@Margosita sent us this photo today via Twitter:
12/1 photo: My last ride on the 4
We're not the only ones with soon-to-be-defunct Muni lines on our minds. California Beat ran an excellent obituary of their own for the 4-Sutter earlier this week. Stay tuned tomorrow for more obituaries from riders who took this opportunity to commemorate these lines.