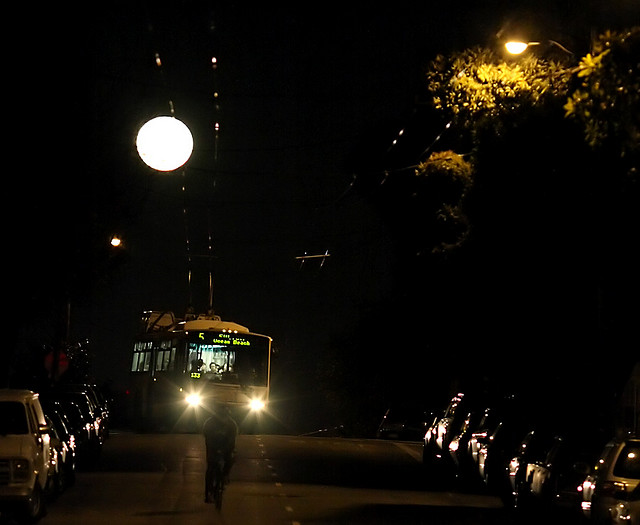 Photo by Shannon K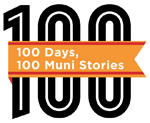 Muni rider Shellby F. shares this positively groovy tale:
12 a.m.: After a long wait for the 5 on 37th and Fulton on a windy, cold night we stepped onto the bus, flashed our fastpasses and took the nearest two seats. I scanned the bus as I usually do to catch a glimpse of who's on board. Nothing unusual for a midnight bus ride, there were a few lonelies and a couple of party-goers. We slowly traveled the next few blocks in silence.
However, I hadn't noticed the man sitting a few seats to my right. At once everyone's attention was on him as he turned on the large black boom box that sat on his lap. The mood completely turned around as the catchy tune of George Clinton's "Knee Deep" filled the bus. I took a glance at my friend, who looked back at me, then out to the rest of the bus. What seemed like simultaneously, everyone began to move in some way. Dancers, singers, toe-tappers, and head bobbers emerged from the once still bodies.
Our bus soared up Fulton. The streetlights whizzed by. We caught all the green lights. The bus driver drummed on his steering wheel to the beat as our midnight Muni DJ sang along.
And those who entered our magical bus did not hesitate to join in. No one entered with a blank face, instead with a great smile or even a dance move.
Before we knew it we were at Fillmore. We hopped off and watched the bus fly downtown, sad to see it go.
I had never had such a collective experience with other muni riders.. it was something I won't forget for a long time.
If you've got a Muni story, however funky it might be, share it on Muni Diaries.