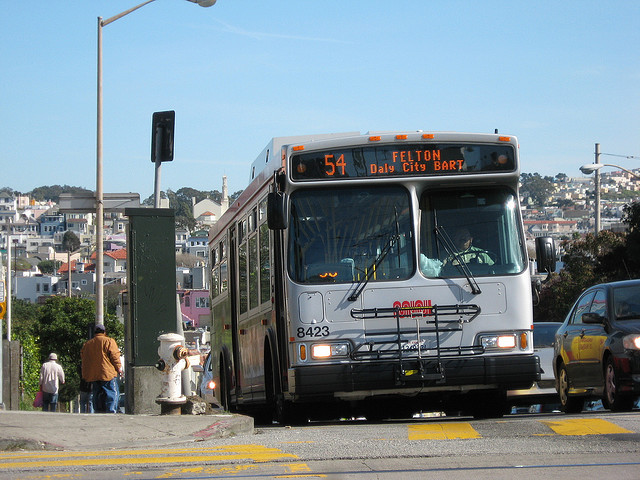 Photo by Whole Wheat Toast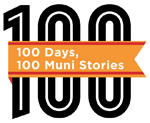 For one of today's "100 Muni Stories," Brandon takes a stroll down memory lane with the 54-Felton.
As a child in elementary school, I rode the Muni bus home every day after school. I always felt a deep affection for riding the bus. I remember I'd walk home with my grandma, and I'd reach the intersection of Felton and Cambridge, the sight of the infamous "corner" in my essay, "The Inspiration."
Some days, I'd get to that intersection right as the bus was leaving. Other days, the driver for some reason felt he/she could drive on right past me without opening those doors to let me on. Still other days, the bus would be there to carry me part of the way home.
I remember there was this old driver in his 60s, and he made my day every day. He smiled when he saw me, lowered the bus so that the tiny version of me could step on, and then he'd give me a transfer after I stuck my 35 cents into the payment machine.
I would ride the bus for less than five minutes; in reality, waiting for the bus often took longer than simply walking home, but the bus was a part of me, and I had to take it no matter the wait, which would sometimes be hours long.
On the days I did not take the bus or lost my transfer by accident, I'd throw tantrums because of how disappointed I was. Back at home, I'd often draw pictures of Muni buses as a pastime. Muni was every bit as much a part of my childhood as school, and I'm glad that today, years down the road, I have the opportunity to express my feelings in literature and share it with others.
Read other great Muni memories in our "100 Days, 100 Muni Stories Muni" Centennial celebration. And we're still collecting your stories, the best of which will end up on ads on Muni buses! Send us your stories today.