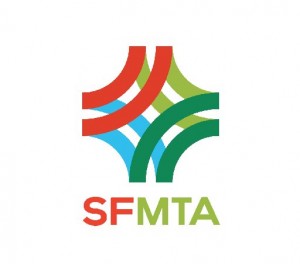 The San Francisco Municipal Transportation Agency revealed its new logo, the San Francisco Chronicle reports. You might remember that the SFMTA announced a design challenge to crowdsource its new logo some weeks ago. The winning design above was created by designer Paul Miller. But one of our readers spotted something familiar in this new design.
Muni Diaries reader David B. asks:
Is this Logo replacing the current Muni Logo? Imagine waiting for a San Francisco Muni bus at a stop where Golden Gate Transit also stops and these logos are coming towards you.
I can see David's point that the new SFMTA logo looks a bit like the Golden Gate Transit logo:


You'll see the new SFMTA logo on SFMTA's website, printed materials, buses, trains, signs, and subway stations. But the beloved worm is not going away (we repeat: not!), according to SFMTA's Murray Bond, who told us that the new logo "only applies to the SFMTA brand, not Muni."
What do you think of the SFMTA's rebranding?