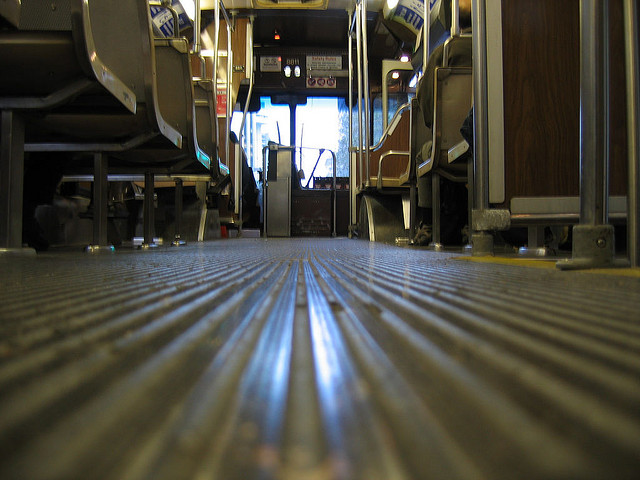 Photo by fiveinchpixie
Update: We asked SFMTA spokesperson Paul Rose about the incident. He says that on Saturday,: "At 3:30 p.m. at Geary and Stockton, a group of youths threw what appeared to be a smoke bomb through the rear open window. The operator opened the door so passengers could exit. No injuries. No arrests." So there you have it. A smoke bomb. Glad no one was hurt.
Muni rider D experienced quite a shock the other day on the bus. Here's the story.
So the other day I was headed home on an outbound 38L when an extremely frightening incident happened. At about 3:20 or so I boarded an outbound 38L at the temporary Stockton St. stop. The doors had just closed and right before the bus had pulled away from the curb I heard something small clatter to the floor and heard hissing as though a can of soda had been shaken up and opened.
A woman started yelling, "DON'T TOUCH IT!! GET AWAY!!" I then saw something small rolling on the floor which emitted tan smoke. EVERYONE got up and RAN toward the front. The bus stopped and I yelled out, "TEAR GAS!! OPEN THE DOORS!!!"
The driver did and everyone swarmed off. I didn't smell anything nor were my eyes stinging so I figured it wasn't a chemical weapon but I wasn't going to stick around and find out the hard way!
Once off the bus I made my way to the front and told the driver what had happened.
Everyone got on a 38-Geary that was right behind the 38L so there wasn't any wait. The 38L stayed parked for a few minutes, which blocked traffic for a bit. It then pulled up and stopped in front of Union Square out of the traffic lanes.
I seriously doubt the onboard cameras caught anything given Muni's dismal record of maintaing them. That plus I'm guessing whatever it was had been tossed in one of the open windows in the back of the bus. I do think that the security cameras in place of a number of shops probably *did* catch whoever tossed the object in the window so hopefully the cops will catch them.
This time it was just something harmless, but next time….