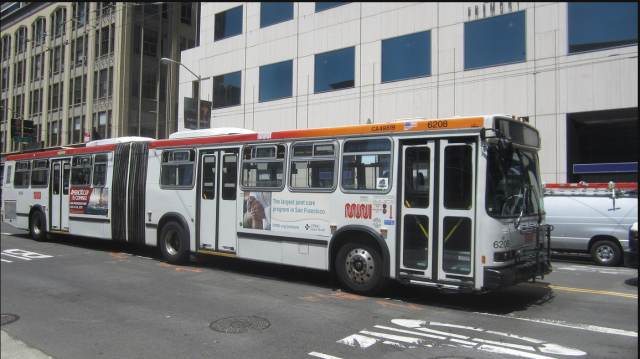 Photo by Saito S
Mariana was assaulted on the bus earlier this week, and was brave to share this harrowing tale with us. After Brittney Gilbert's terrifying recent account, it's just terrible to hear yet another case of assault. Passengers, be aware of your surroundings.
So yesterday I was sexually "something" on public transportation and it was pretty fucking scarring and terrible. I don't know if it counts as harassment or assault. All I know is that it happened.
[Tuesday] after work I hoped on the 49 Muni bus on my way towards the Tenderloin to celebrate a friends birthday. It was 8pm and I got on the bus like I do pretty much everyday of the week.
At Grove and Van Ness, a Hispanic man in his 30s gets on and sits next to me. I am on my iPhone trying to figure out directions to my friend's place before I realize that this man has his erect penis out and is touching himself while slowly grazing my shoulder with his other hand and looking at me.
I immediately freeze and don't know what to do. I could reach for my pepper spray. I could shout and yell at him. Instead, I somehow will my legs to move and go to the front of the bus where I promptly inform the bus driver what is happening. He immediately stops the bus (near Eddy and Van Ness) and walks to the back where I told him the guy was located. At this point the guy realizes that I've told the bus driver and he jumps up and gets off the bus and runs off towards Eddy and Polk.
I am sitting by myself in the front, shaking and willing myself not to cry. The bus driver apologizes to me and then keeps going. I get off a couple of stops down and still shaking, make my way towards my friend's house.
We need to be more vocal when we see this stuff happen on the bus. I always thought I was the type of girl who would shout and scream if this happen, but when it happened to me, I was too shocked and scared to make a scene. Anyone else around me could have helped me, but no one did.
Earlier this year, the Bay Citizen reported that sex crimes on public transportation are extremely under-reported. Have you reported crimes on the bus, and how do you react when something like this happens around you?